Japan is well known for its plethora of animal cafés — establishments where you pay an hourly rate to spend time with animals of your choice, be they cats, hedgehogs, rabbits, reptiles or even owls – as well as other animal "attractions" such as zoos and aquariums. For many people, however, these places can feel artificial and pretty questionable ethically. So, if you're looking for somewhere in Japan where you can get your fill of cute creatures in a more natural setting, here are four ideas to get you started.
1. Hang out with the deer in Nara Park
As soon as you arrive in Nara, one of the first things you'll notice is the abundance of deer characters everywhere. From socks to pens and keyrings, you can purchase pretty much anything with "Shikamaro-kun," the city's kawaii deer mascot, emblazoned on it. And once you reach the vicinity of Nara Park, you'll soon see why.
The area is home to over 1,200 deer, who roam freely throughout the grounds and around the nearby streets and temples. In Shinto mythology, deer are thought to be messengers of the gods and these deer are considered so special that they have been designated a national treasure.
Although still wild animals, Nara's deer are far more tame than most. Some will let you pet them and others have even learned how to bow in order to entice visitors into giving them more food. If you want to feel popular, buy some of the readily-available shika senbei (deer crackers) and you'll soon be surrounded by eager new friends!
💴 Free! Deer crackers can be purchased from numerous shops and stalls for ¥150.
⏰

 Open daily 24/7.

📍 Nara Park is about a 5-minute walk from Kintetsu Nara station or around 20 minutes from JR Nara station.
---
2. Watch monkeys enjoy the hot springs in Nagano
It turns out that humans are not the only species to appreciate a good, hot soak. One of Japan's most iconic images is that of Japanese macaques, or snow monkeys, relaxing in steaming hot springs in the mountains of Nagano Prefecture.
If you want to get a closer look at this phenomenon, Jigokudani Snow Monkey Park in Yamanouchi is the place to go.
Despite the name "monkey park," the animals at Jigokudani are completely wild. Staff provide food for them, but there are no fences and the monkeys are free to come and go as they please. It's a great opportunity to watch their social interaction and oddly human-like behavior in a natural environment. Plus, it really is adorable to see them relax in the hot water.
Although the park is open all year round, winter is the best time to visit as the cold temperatures increase the chances of seeing the primates bathing. You can take as many photos as you like, but remember not to touch or feed the monkeys. It's also advisable to wear sensible shoes, as the park is about a 35-minute walk from the nearest bus stops.
💴  ¥800 for adults, ¥400 for children.
⏰

 

8:30 a.m.-5 p.m. in the summer, and 9 a.m.-4 p.m. in the winter. There are no fixed holidays, but the park may close for reasons such as adverse weather.

📍 Buses run to the park from Nagano and Yudanaka stations.
---
3. Cuddle up to cats on Aoshima and Tashirojima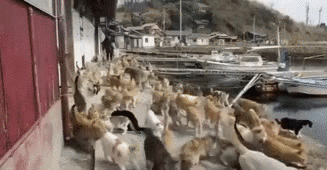 If you're not keen on the idea of cat cafés, why not try a cat island instead? That's right, Japan has more than one! Two of the most famous are Aoshima, in Ehime Prefecture, and Tashirojima in Miyagi Prefecture. Both are tiny islands with a human population easily outnumbered by its feline residents. They have very little else in the way of tourist attractions — and are a bit out of the way to get to — however, any true cat lover will tell you that an island full of cats is worth making the effort to visit!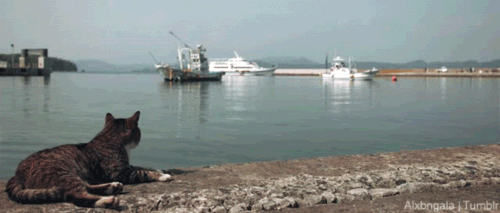 Island cats are usually semi-feral, so won't be as cuddly as household pets, however, if you have food for them you'll be sure to get their attention (on Aoshima they have specific feeding locations for the cats, so be sure to only feed them in these designated areas). The furry balls of fluff love to lounge around in the sun and play with visitors, and ask for nothing more in return than plenty of food and your undivided attention!
💴  Free!
⏰

 

Ferries to both islands depart infrequently so be sure to check the schedules in advance.
📍 It takes about 40 minutes to get to Tashirojima on the Ajishima ferry, and Aoshima is about a 30-minute boat trip from Nagahama Port.
---
4. Befriend the bunnies on Okunoshima
Okunoshima, better known as Rabbit Island, is a small island off the coast of Hiroshima Prefecture. As the name suggests, it's home to a population of over 1,000 wild rabbits.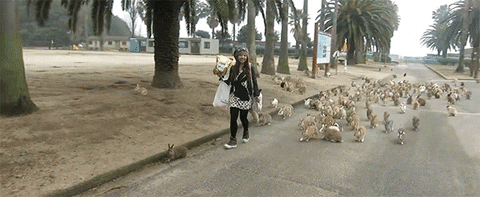 No one seems to be sure of the exact origins of the island's bunny colony, but there are two main theories. The first is linked to the island's dark past as a production site for chemical weapons during World War II, where rabbits were used as unfortunate test subjects. It's suggested that the current rabbit population is descended from those that were released into the wild after the war ended. The second theory is that they are the relatives of a group of rabbits brought to the island by schoolchildren.
Regardless of their roots, the island's bunnies are thriving. To keep them safe, other pets such as cats and dogs are not allowed on Okunoshima. If you want to feed them, you can purchase rabbit food at the ferry terminal or bring your own from home (as long as it's appropriate for them). The bunnies can be found roaming all across the island, but the best place to head for is probably outside the hotel, where they know food-laden visitors can be found. Keep in mind that while it's OK to pet the rabbits, they are still wild animals so don't try to hold them. And of course, keep your camera ready!
💴

 

Free!

⏰

 Ferries run from 7:30 a.m. until 7:15 p.m.

📍

 Ferries travel from Tadanomi Port to Okunoshima. The trip takes approximately 15 minutes and costs ¥310 for adults (¥160 for children under 12).
Hopefully, this post has given you some ideas for locations you can visit to spend time with animals in a way that's beneficial for both you and them. Just remember to be respectful of our furry friends during your stay. And I look forward to seeing your photos on Instagram! Tag your post with #GaijinPotTravel for a chance to get your shot featured in our monthly top reader photos.
Do you know of any other must-visit locations for animal lovers in Japan? Let us know in the comments!